There are so many things to do at LaConner, even during phase 2 time.  Grab your mask and your walking shoes and check out LaConner!  Whether you get there by boat, car or plane LaConner is a fabulous place to visit!
Do you want to see some beautiful art?
Earthenworks gallery has a variety of beautiful art pieces including metal smithing, paintings and pottery. They have a store in Port Townsend and in LaConner.
Check out this video to learn more about Earthenworks:
Yes, I want ice cream!  You are in luck because the LaConner Ice Cream Tower is open during phase 2!  Yummy!  Look for the Lopez Island Ice Cream brand, my personal favorite!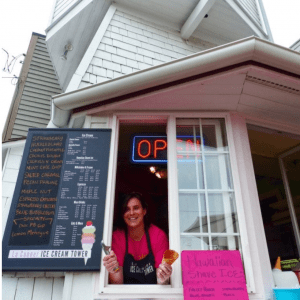 Do you love olives?  Then you have got to check out The Olive Shoppe.  Even if olives are not your favorite you will want to see all the creative KINDS of olives that they have crafted.  I love the garlic stuffed olives. They also have fun kitchen items at this store.
Check out this fun self-directed walking tour!  You can see all kinds of beautiful sculptures as you walk through LaConner.  Which one is your favorite?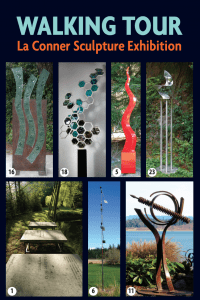 Food!  There are several restaurants with outdoor seating, which works great during the Covid pandemic.  Many of the restaurants have great views of the water.  There are 28 restaurants serving all kinds of cuisine available from fancy Seafood to yummy burgers.  Here is the updated list of covid regulations for LaConner restaurants.
Support Our Local Businesses During Phase 2! La Conner a Tiny Town w. a Big Heart
Visit Pioneer Park in LaConner!  There is a gorgeous view as you walk along the water.  Take in the breathtaking scenery!
I hope you get a chance to visit LaConner!  What part of LaConner do you want to go to? Why?